The Pew Research Center released an analysis of newly available Census data Wednesday, showing that in the 2018 midterms, Generation X, the Millennial generation, and Generation Z cast more votes than the baby boomer generation and those that came before it. The big question now is, of course, what this means for 2020.
We already knew that in 2018 voter turnout reached a high point not seen during a modern midterm; this new data confirms that it was largely younger voters who buoyed it to that point.
And as the chart below shows, this wasn't the inevitable product of time passing — young voters aging into having the right to vote, young immigrants being naturalized, etc. Rather, turnout among young voters surged by more than 20 million between 2014 and 2018, while the pool of eligible voters grew by only 2.5 million. Millennial and Gen X turnout for the 2018 midterm was within a few million votes of where it was during the 2016 presidential election.
Millennial turnout, Pew notes, almost doubled since the last midterm election in 2014. The Gen X vote also reached record highs. Something is driving turnout. And it sure looks like that something is President Trump, who is making the GOP's existing difficulties with younger voters far worse.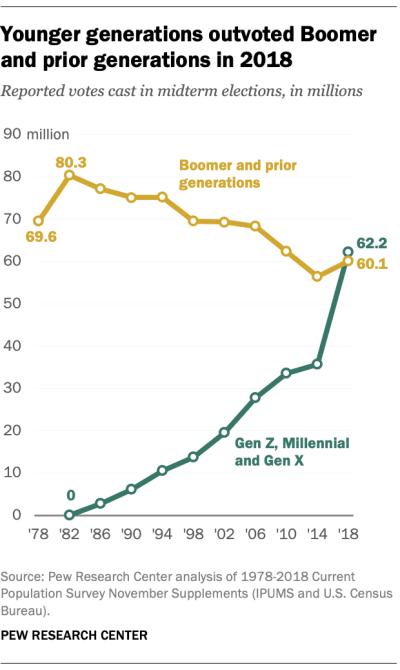 On Twitter, this has prompted predictions of the GOP's demise. And maybe that's the right read. But even though each generation is more progressive than the last, the whole "demographics is destiny" thing has been moving along more slowly than many in the Democratic Party would have hoped. That creep could continue at a snail's pace, even with Trump in the White House. Coalitions change: In the future, the GOP could attract even more whites from the Democratic Party. Or young voters, growing older, could begin to vote like old voters — that is, vote Republican. Some polls suggest that white, male Millennials are, increasingly, already doing this. It's hard to read too much into where the generational shift takes us.
But the voter turnout trend shown by Pew does give us a good sense of the issues that voters will push politicians to address going forward. Younger voters are more likely than boomers to say that the economic system in this country "unfairly favors powerful interests." They're not concerned about "big government." They are concerned about climate change. These preferences are, of course, reflected in the Democratic Party's internal conversations, and will be prominent in the first debate next month. (Younger voters are even pushing candidates, many of whom are in turn asking cable networks to hold a debate solely about climate change, an issue usually addressed with a single question during presidential debates, if it is addressed at all.)
So while it perpetually feels too early to predict the demise of the GOP, it's clear the conversation among voters is changing, and the tired idea that young people don't vote isn't holding true in the Trump era.